Your health is a reflection of your lifestyle habits. Some of your daily routines may be contributing to negative health and wellness outcomes.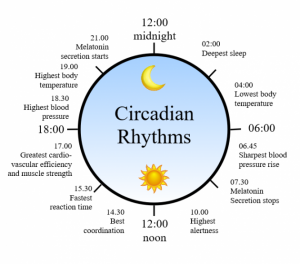 For optimal health and function, your lifestyle habits still need to promote good circadian rhythm. This is the day night cycle of your brain and body.
Here are 6 habits that will help both your brain and body optimise its circadian rhythm leading to better health.
Decrease bright lights at night
switch to lamps or candles v's overhead lights in the house after dark
use anti-blue light filters on devices or wear red lens glasses
Last food or drink 3 hours before bed to allow for digestion to finish
a glass of water or non caffeine herbal tea is ok
Have a regular bed time if possible

 
Have a regular wake up time if possible and eat breakfast

 
Have exercise in your weekly routine
optimal would be mornings or during the day but if not possible still go at night
Try to get a small amount (up to 1 hour) of sunlight each day
Especially at sunrise or sunset
Give these habits a try for a month and see if your health and wellness improves. Shifting lifestyle choices closer towards the way you were designed to live can help you be a highly successful chiropractic patient .